You have options. Let's explore!
Enter your information below and learn about the different schools near you.
School options in your area:
The information represented on this page may not be reflective of recent changes made to a school's tuition rates or financial aid offerings. Check with your private school of interest for the most updated information.
2019-20 School Report Card Grade
Click each school for student achievement and growth
Thank You!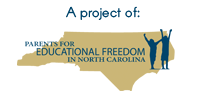 © 2023.
NC Schools Around Me is a project of Parents for Educational Freedom in North Carolina. All Rights Reserved.
Disclaimer